WELCOME COMMUNITY MEMBERS!
COMMUNITY CLEAN-UP
*RESCHEDULED TO:*
WHEN? May 3rd to May 7th, 2021
TIME? Beginning at 9 a.m. to 3 p.m.
Please come to the Chapter and register!!
*Trash Bags and Gloves will be provided*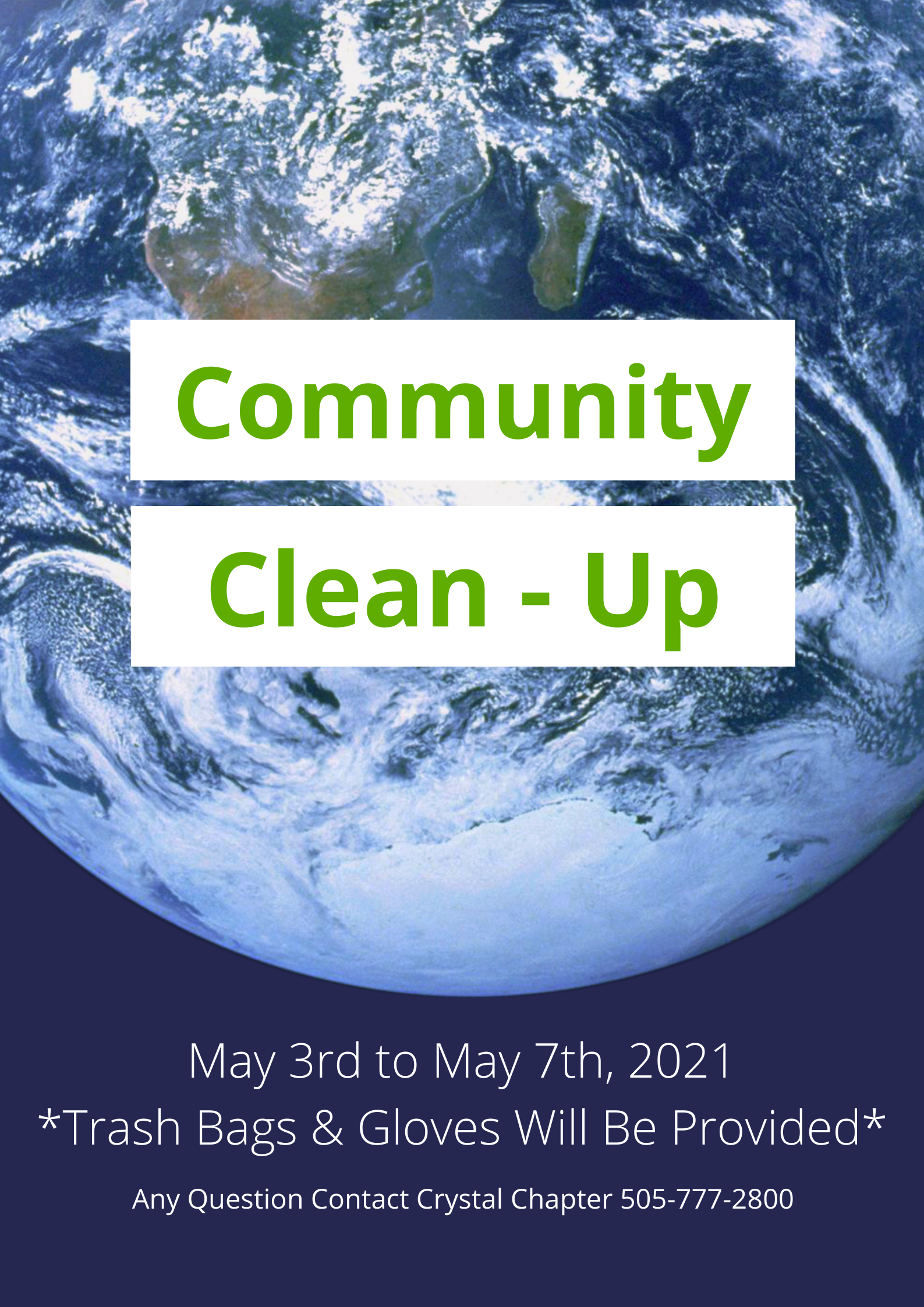 Crystal Chapter conducts
meetings monthly to keep residents informed.
Due to the covid-19 pandemic, only (3) elected chapter officials makes the quorum. Community members are welcomed to listen in on the chapter meetings via teleconference however their votes will not be counted.
There is a *10* limit in-person meeting allowed. Apart from the Chapter Officials, limited seats are available at each meeting.
May's Meeting DATES:
Planning Meeting is scheduled for
Tuesday, May 4th, 2021 at 6 p.m. via teleconference.

Teleconference Information:
Phone #: (502) 622-8092
Pin #: 713 618 088 followed by the # symbol
Regular Chapter Meeting is scheduled for
Sunday, May 9th, 2021 at 2 p.m. via teleconference. 
NOTE: (Meeting dates are subject to change)
CRYSTAL CHAPTER CARES ACT DISTRIBUTION INFO:
Monday to Friday
from 9 am to 2 pm
Crystal (Tó niłts'ílí) is a community located in the west, south-central part of the Chuska mountains at an elevation of 7,523 feet above sea level. The fertile hill country provides beneficial grazing areas for livestock. 
Crystal, New Mexico offers great scenic and recreational characteristics which include Assayi Lake, Narbona Pass, Berland Lake, Tódích'iini Lake, and Crystal Lake.
Narbona Pass (former Washington Pass) has great recreational qualities especially for Hiking and Cross Country activities, students at Dine College advocated in changing the name of Washington Pass to Narbona Pass to pay tribute to an early famous Navajo leader.
We are only offering Essential Services
at this time due to the COVID-19 Pandemic.
Our hours for Water, Trash, & Office Services are:
Mondays  – WEDNESDAYS – Fridays ONLY
8 am to 12 pm and 1 pm to 4 pm. 
*We are closed from 12:00 pm to 1:00 pm during lunch. No Exceptions.
Water: If you are hauling water, as a reminder if the weather is cold or during winter conditions
we will service water until the afternoon due to freezing temperatures and the hose being frozen.
Please do not request water service one hour prior to closing.
Trash: We will NOT accept any form of boxes, paint containers, large metal objects or bicycles. 
Trash Fee $2.12 a bag
Water Fee $0.106 a gallon
Xerox Copying Fee $0.31 a page
Faxing Fee $0.31 for the first page
$0.56 for additional pages
*6% Navajo Nation Sales Tax applies to all fees
CHAPTER OFFICIALS
Patricia Slim, President
LaVerne Johnson, Vice-President
Vacant, Secretary/Treasurer
Louise Q. Mark, Grazing Official
Wilson Stewart Jr., Council Delegate – District #18
CHAPTER ADMINISTRATION

Jammie Billiman, Chapter Service Coordinator
Lakota Belone, Accounts Maintenance Specialist
Sharon Begay, Office Assistant
Tyler Tsosie, Custodian/Maintenance Building
Franklin Carroll, Heavy Equipment Operator
CRYSTAL SENIOR CENTER
Louise Q. Mark, Supervisor
Victoria Seletstewa, Cook
Esther Sandoval, Driver
(505) 777-2806